The map is the central point for moving around the various areas in game, simply select the location you wish to travel to.
From questing areas:
Camp - Teepee Hollow - Turtle Falls - Spring Clearing - Rocky Ridge - Mt. Magma- Lost Temple(coming soon)
To the troop and event specific areas:
PvP Fort - Troop Hall - Troop Wars - River Crossing - Celestial Towers - Winter Peak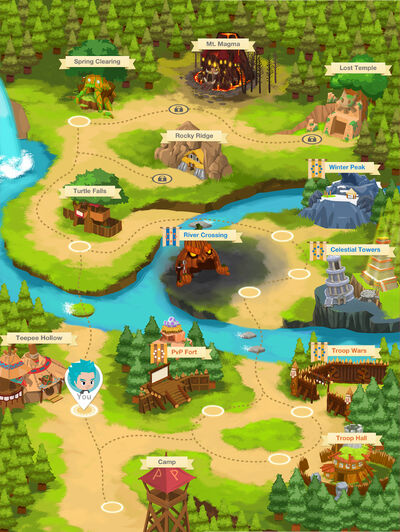 Ad blocker interference detected!
Wikia is a free-to-use site that makes money from advertising. We have a modified experience for viewers using ad blockers

Wikia is not accessible if you've made further modifications. Remove the custom ad blocker rule(s) and the page will load as expected.